Sharon Linda Squires, PhD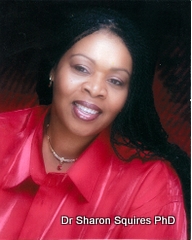 Biographical Sketch (2006)
Dr. Sharon Squires is an Assistant Professor and the Visual Sociologist for California State University- Dominguez Hills. She currently serves as the first Visual Sociologist in the CSUDH sociology department. She is working on the development of a new visual sociology program in addition to developing her research on African American males.
From 2001 to 2004, Dr. Squires was the Teacher Scholar in Residence, in the Sociology/Anthropology department at Truman State University in Kirksville Missouri. In this capacity she taught sociology courses and also served as a student mentor and advisor for the Ronald E. McNair Program, as well as the campus wide diversity consultant. From 1998 to 2000 she was adjunct faculty in the Rural Sociology and Human Studies and Family Services Departments. She also served as the director of the MU Interprofessional Initiative, (MUII) at the University of Missouri-Columbia.
The MUII was a large grant-funded program designed to foster interdisciplinary education at the University, as well as develop community/University partnerships. She is originally from Barbados, West Indies, and has lived in this country for over 25 years. She received her BA from Georgia State University, with a major in Anthropology and a minor in Sociology. In 1993, she received her masters from the Sociology Department at the University of Missouri – Columbia. Her thesis focused on African American Male attributions and perceptions of social reality. She completed her PhD in Rural Sociology, May 1999. Her dissertation topic was Wealth, Race and Reality in an All-Black Missouri Town: Kinloch Missouri where she examined the intersection of race and wealth in Missouri's first all-Black town.
Her general research and teaching interest are in the areas of minority relations, African American studies, social psychology, student retention, community development, and visual sociology. In 2000, she also served as the principal of the Fun City, Youth Academy, where she supervised and coordinated several teachers and children. She worked as a social worker in Columbia, Missouri and Atlanta, Georgia for several years where she worked with high risk clients and children and adults with developmental disabilities.
Dr. Squires also currently serves as a consultant to local community groups specializing in the creation of organizational brochures and presentations. Publications: Examining Differences between First Generation and Continuing Generation Students at a Public Liberal Arts University. (MKN) Missouri, Kansas. Nebraska, Promoting Educational Opportunities Journal, 2003, v1. Co author John Ishiyama, Truman State University.